A day off on Saturday, and a very pleasant one it was too, including quite some time in the Ashmoleon and the Oxford City Museum. Quite a contrast, given the Ashmoleon is all shiny and new (is it too heretical to say I rather prefer the way it used to be?) and the City is a lovely traditional museum packed with excellent material, even if most of the labels are paper pasted on to whatever material came to hand.
I found a delightful number of named women across both museums. Here's a small selection…
First, the famous one, Livia…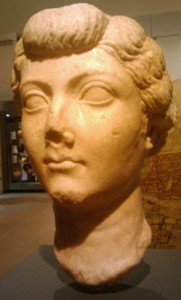 Then the (probably) relatively humble Cornelia Thalia, resident of Rome who died about 50-75AD and whose cremated remains were placed in this small casket, its carving still astonishingly crisp.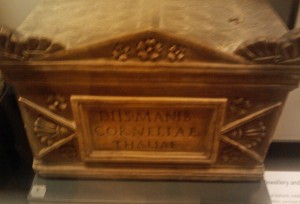 Coming to Britain, there's a simple trace of a life, in this pewter dinner set, from Appleford, one piece of which is scratched with a woman's name, Pacala, probably a woman of Celtic origin. The set was hidden in a well in the final years of Roman occupation, around 400AD – rough times.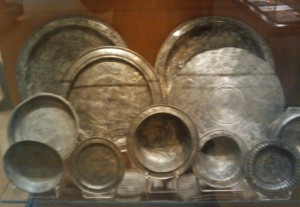 Moving on to the city museum, this humble slab may have marked the supposed grave of St Frideswald. She died in about 735AD, though this dates from the late 11th/early 12th century and is in Purbeck marble from Dorset, a very early example of its funerary use.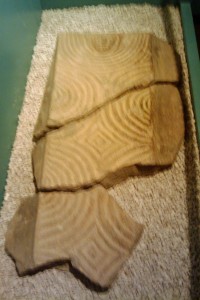 Moving into early modern times, there were humble tradesperson's tokens – two women among the 20-plus male traders from late 17th century.
One was Alice Lant, widow of a cordwainer or cobbler, who lived "at the top of the high street", and Ann Turton, originally the widow of an ironmonger, and when he died in 1652 she took over his business, but she later went into trade as a wine merchant, running the Crown Tavern in Cornmarket as Ann Morrell after her second marriage in 1659.