The self-indulgent bit…
I've been lucky to own four widely different dogs. The most recent was Champ.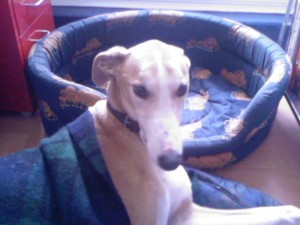 He came from Battersea Dogs' Home in December 2005. He's five years old, was called "Prince" at Battersea and before that was (I believe) a racing greyhound called Alfa Focus, probably born and certainly first raced in Ireland. He also raced and won in Peterborough, Nottingham and Romford, before retiring to Norfolk, from where he went to Battersea because his owners didn't have enough time for him.
Sadly, his placement with me just didn't work out. He came to me as being able to be left alone, but he soon developed acute separation anxiety. I tried all of the training programmes, got him a crate, bought every toy and treat I could find, but he just couldn't cope with being on his own. In the end he was a nervous wreck and I was a nervous wreck. When I was with him he was a wonderful dog, but I couldn't have a dog that I couldn't leave. So he went back to Battersea, and has now found a new home.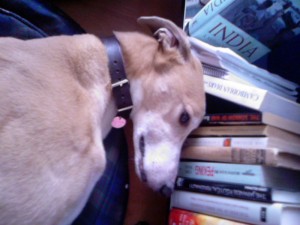 But don't let my experience put me off – lots of owners I spoke to have had no problems with leaving greyhounds alone, and in all other respects Champ was a wonderful dog.

Beanie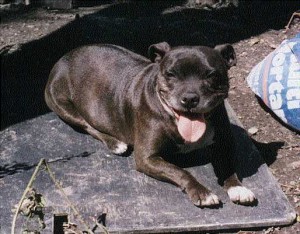 She came from Battersea Dogs' Home in August 1999 and was with me until February 2004. She was about 10 years of age when I got her, and she quickly developed the grey on the muzzle to prove it. She had the suspicion of humans that comes from being mistreated in the past (although it didn't take much to make her drop it!)
She showed me a lot about her past. She obviously had experience of boats, since she wanted to jump on every one we passed, but not of the countryside. When she first encountered a cattle grid in typically terrier fashion she tried to charge straight across. The second time – after I'd rescued her – she though about it, and walked on the slats. She was a great rat hunter, and liked chasing squirrels, which seemed to know they were quite safe.
Lucky, sadly, is no longer with us. I only had him for around eight months, but he was a wonderful example of Thai dogs. He was found on the street with a horrible cancer in his eye and rescued by Hella Kugler (that's her with him below) and the Thai Society for the Protection of Animals.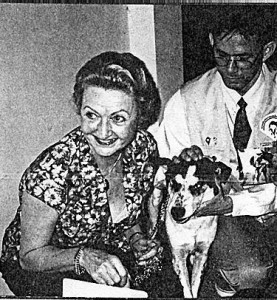 Learning to live with a farang (foreigner) in the house was a bit of a shock, but Lucky managed it all with aplomb. He looked curiously at a mirror, had a sniff, and decided that was nothing. He was naturally house-broken and would walk around with his legs crossed, rather than go inside.
He was very quiet and quite unable to cope with the ferocious Weimaraner that lived in our compound, and the nasty little dog that ran with it. He'd hide behind my legs, which was how I suffered my only serious wound in Thailand – luckily the little dog had been vaccinated for rabies.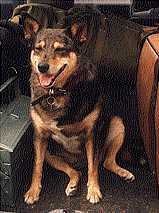 This is Kelly, in her younger, rather more svelte, days. Sadly, she died in 2002, at the age of about 16. Rebecca and Ed, with whom she lived for many years, did amazingly well to keep her going, and happy, for so long.
Kelly had an adventurous life. She was dumped at the Camden Vet Clinic, on the outskirts of Sydney, and was in danger of being put down until I decided to take her, as I was finishing university. She looks like a blue cattle dog-cross, but several knowledgeable people have told me she's a German coolie, a rare type of sheep dog. She'd obviously been a farm dog, and may have been dumped because she was scared of cows. But she has all the herding instincts – quite good at sheep provided I yelled at her continuously, very good with the Henty hens, and even in her grown-up days quite respectable with cattle, although with a healthy awareness of the risk of headbutts.
She moved around NSW with me, being an invaluable companion and friend, and for the year I went to Europe even returned to being a farm dog – well for a few months, until she refused to join the others in their kennel at night, declaring herself a house dog!
She then moved in with Betty, a young collie, and help teach her how to behave, or at least what you could get away with! That was in Canberra, but she then moved back to Sydney, with kinder weather for old bones.